Click here for a list of:
Chad Ovel
CHAIRMAN, Partner, Mekong Capital
AmCham Vietnam
Read more
Chad Ovel has lived and worked in Vietnam continuously since 1996.
Chad is a Partner at Mekong Capital, a Vietnam-focused Private Equity firm, specializing in consumer driven businesses. Established in 2001, Mekong Capital has the most extensive private equity track record in Vietnam having completed 35 private equity investments, of which 26 have been fully exited. Chad has led Mekong Capital's successful investments in various sectors including pharmaceuticals, real estate, logistics, casual dining and retail.
Before joining Mekong Capital, Chad had a successful track record as a CEO leading the rapid growth of ScanCom Vietnam, a foreign-owned furniture export manufacturing business, and AA Corporation, a local company operating in the sectors of construction, retail and manufacturing.
Chad is originally from Cedar Rapids, Iowa.  He holds a BA from Carleton College and an MBA from University of Chicago.
Uyen Ho
VICE CHAIR, Director of Public Affairs, Intel Vietnam and Malaysia
AmCham Vietnam
Read more
Uyen leads a regional Public Affairs team for Intel Vietnam and Intel Malaysia. In Vietnam, Uyen is the first local senior manager sitting on the Site Steering Committee for Intel Vietnam. Her priorities are to ensure licenses to operate for Intel Malaysia and Vietnam sites with public policy advocacy from local to central government levels, support Intel business growth and drive Intel reputation with communities to promote Intel RISE2030 goals for Corporate Social Responsibility.
Uyen has been with Intel since 2006 as one of the pioneers involving in the setup the $1B Assembly and Test factory of Intel investment in Vietnam. Intel is the first largest high-tech US investor and the first mover of this industry into Vietnam. Prior joining Intel, Uyen worked for Nike Inc. Vietnam in its early establishment for over 10 years as the Director of External Relations.
Uyen has a strong passion to support female in leadership, especially female students in engineering to promote a diverse and inclusive skill-based talent pool for Intel and Vietnam. Under her leadership, the Public Affairs team has been running many programs with academic partners and business association include the first public private partnership in Higher Engineering Education Alliance (HEEAP), Intel Vietnam Study Abroad program (IVSA), AmCham Women Engineering Scholarship (AWES) and Dariu Foundation Scholarship which awarded over a thousand young students to study in Vietnam, USA and Australia. Uyen is one of key contributors to many prestigious recognitions in her career from the US-VN government include the Award for Corporate Excellence (ACE) by US Secretary of State, and the Intel Achievement Award for her efforts to transform the diverse workforce for Intel Vietnam factory.
Uyen holds a general MBA from the Columbia Southern University (CSU) and a BA in English of the HCMC Teaching University.
Jahanzeb Qayum Khan
VICE CHAIR, CEO & General Director, Suntory PepsiCo Vietnam Beverage
AmCham Vietnam
Read more
Jahanzeb is the CEO & General Director of Suntory PepsiCo Vietnam Beverage Company. Suntory PepsiCo Vietnam Beverages ( is a strategic alliance between PepsiCo Inc and Suntory Holdings Limited, a Japanese beverages giant After more than 25 years of operations in Vietnam, SPVB is one of the leading beverage companies with 5 manufacturing facilities nationwide, 5 sales offices and 1 Head office The company now provides direct employment for more than 2 800 employees and thousands of indirect employees It has 13 brands in market, playing in 7 categories, which are backed with a strong Go To Market strategy.
We have almost 400 Distributors as our partners and more than 1 900 Salesmen who work everyday to make sure our products reach 400 000 outlets through direct service and 700 000 outlets through wholesalers As part of our Sustainable Development agenda, we believe in being responsible towards the community we operate in Therefore, alongside providing high quality products to meet the needs of consumers, SPVB carries out series of activities to support clean water and education This is living our company Value of "giving back to the society SPVB is one of the top employers of choice in Vietnam and has recently been awarded 1 st place amongst the Top 10 Most Trustworthy beverage companies in Vietnam (Non alcohol sector)*
Jahanzeb has close to 30 years of working experience in MNCs His last 19 years in PepsiCo saw him working extensively in Asia Middle East and Africa, namely Pakistan, South Africa, Nigeria, Iran and Thailand Prior to joining SPVB, he was based in Bangkok as Vice President, Business Development and Transformation Asia Pacific Before the Transformation role, he was the General Director for Pakistan and Afghanistan, leading both Snacks and Beverage portfolios From July 2019 Jahanzeb assumed the charge of CEO General Director of SPVB.
Jahanzeb is a graduate in Electrical Engineering with a degree from the University of Maryland, USA Jahanzeb plays golf, loves hunting and reading books He also likes spending time with his wife and children and strives to achieve a good work life balance.
Michael Beckman
SECRETARY, Managing Partner, EY Law Vietnam
AmCham Vietnam
Read more
Michael currently leads the newly launched law firm of EY Indochina, a fast growing team of 15 corporate lawyers based in Ho Chi Minh City.  EY Law Global has over 4,000 lawyers in 85 offices around the world, and now intends to expand quickly throughout ASEAN.  Michael will head this expansion process in Indochina.
Michael has over 20 years' experience in corporate finance, mergers and acquisitions and corporate law.  Prior to joining EY, Michael worked as a corporate attorney at Sullivan & Cromwell in New York, London and Los Angeles, as well as Debevoise & Plimpton in New York, focusing on international corporate bankruptcy, securities and M&A work.    He is a member of the bar of New York and California and is a licensed foreign lawyer in Vietnam.
Outside of law, Michael worked as a management consultant at McKinsey & Company in their pharmaceutical practice group and managed his own hedge funds for a decade.
Michael graduated magna cum laude from Cornell University, received his M.A. from Princeton University and his J.D. from Yale Law School.  He also studied at both Cambridge University in the UK and Georg-August University in Germany.
Christy Le
TREASURER, CFO and President of Vietnam Operations, Arevo
AmCham Vietnam
Read more
Christy is CFO and President of Vietnam Operations for Arevo, an advanced composites additive manufacturing technology company. She is also President of Vietnam Operations of Harrison.ai, a software technology company that automatically analyzes medical images and provides medical professionals with real time decision support.
She is co-founder of Alabaster, a group that invests in early stage deeptech companies (30+ investments in new materials, biotech, and semiconductors).
Previously, Christy was in a few executive roles at technology companies including Vietnam Country Director at Facebook. Before that, she was the Fossil Vietnam MD and VP of Operations for Fossil Group (acquired Misfit for $260M in 2015). At Misfit, a wearable technology company, she was the founding CFO and COO. Before Misfit, Christy was a consultant at McKinsey and an investment banker at HSBC.
Christy graduated Double First in Economics at Oxford and as Valedictorian and a Legatum Fellow at MIT Sloan (MBA).
Leonardo Garcia
General Manager, Vietnam & Cambodia, The Coca-Cola Company
AmCham Vietnam
Read more
Mr. Leonardo Garcia currently serves as General Manager of Coca-Cola Southeast Asia, Inc. in Vietnam & Cambodia.
Mr. Garcia just move to Vietnam, bringing over 20-year deep and diverse experience out of which 18 years with The Coca-Cola Company. He has a proven track record of winning in the market, winning with customers and building great teams.
Prior to his current role, Mr. Garcia was leading Taiwan team through accelerating growth and winning in the market, continuing to partner with our customers, building on the Company's people agenda and creating a more sustainable business in line with the company's purpose 'Refresh the world. Make a difference'.
Mainly in China Market, Mr. Garcia was Senior Operations Director of The Coca-Cola Company , where he is responsible for the business operations of Jiangsu, Shanghai and Zhejiang, accounting for 15 percent of the Company's volume in mainland China. He managed complex customer/bottler relations with two bottling partners with great success, using his extensive experience in strategic planning, customer and partner relationship management, and financial planning.
Since joining The Coca-Cola Company in 2002, Mr. Garcia has held a variety of operational roles with increasing responsibility across mainland China and Brazil, including the Shopper and Trade Director of The Coca-Cola Company in mainland China, multiple commercial, market development and product analysis roles in Brazil where he managed the key account McDonald's business and led the market development for different franchises across 10 states in Brazil.
Mr. Garcia graduated from Universidade de Brasília with a degree in business management in 1999, and in 2003 he earned an MBA in Marketing from Fundação Getúlio Vargas – FGV.
Mark Gillin
Founder, Chairman and Managing Director, AIM – American Indochina Management
AmCham Vietnam
Read more
Mark Gillin has been identifying, developing and investing in business opportunities in Indochina since 1993. He is a founder, Chairman, and Managing Director of America Indochina Management Ltd. (AIM) a diversified Holding Company with operations throughout Vietnam and Cambodia. Since its founding in 1996, AIM has established market leadership in a variety of product categories covering a diverse range of industries including Construction Materials, Specialty Furniture, Consumer Products and Industrial Consumables.
He is also a founder and Chairman of AIM Capital Management Ltd, an investment management company that provides expansion capital and strategic and operational support to small and medium sized companies throughout Indochina. AIM Capital Management has invested in Healthcare, Media, Technology, Furniture, Hospitality, and Consumer Products.
Mark has successfully managed businesses in a number of different markets at various stages of development (Japan, Hong Kong, Guam, Vietnam, Cambodia). Prior to coming to Vietnam in 1993, he spent five years with Getz Bros., the oldest and largest US non-commodities trading company, where he worked closely on marketing and distribution issues with leading MNCs including Nestlé, Mobile Chemical, Kimberly-Clark, Abbott Labs, Colgate-Palmolive, Heineken and others.
He has served as non-executive board member of Navigos, AA Corporation, Japan Vietnam Medical Corporation and Indochina Assets Limited.  During his previous six years service as a member of Board of Governors, 2010-2015, he was Chairman in 2013  and Vice Chairman in 2012 and 2014.
Jacky Kang
President & Country Leader, 3M Vietnam
AmCham Vietnam
Read more
Jeounghoon (Jacky) Kang, President & Country Leader of 3M Vietnam, has more than 23 years of experience in 3M. He has been appointed to the position of President & Country Leader of 3M Vietnam since March 1, 2020. In his current role, he is a legal representative of 3M Vietnam and responsible for leading Corporate Affairs organization, executing corporate wide priorities across all business groups and functions, enhancing employee engagement activities, championing ethics and compliance, chairing country leadership team, driving global sustainability efforts, cultivating D&I culture and promoting Corporate Social Responsibility (CSR) activities. He is also responsible for developing major Korean OEM business across SEA region as a leader of SEA KOEM Business. His career in 3M started in 1997 as a marketer of Electrical Material Division at 3M Korea. Since then, he has held various roles with increasing responsibilities spanning across various businesses and geographies such as Sales manager, Division head, Global Key Account manager and Business Group leader. Prior to his current role, he was the Country Business Leader for Energy & Electronics Business Group and Transportation & Electronics Business Group in 3M Vietnam. In this role, he was able to work various end customers to understand Vietnam markets and built ʻCustomer First' mindset in his organization providing customized solutions to resolve the customer pain points and needs, resulted in 20% growth during the time. Before he relocated to Vietnam, he served as Global Key Account manager with primary responsibilities covering Mobile markets where Vietnam plays a vital role to support most of global mobile device supply. Jacky has a strong belief in the power of a diversified and inclusive workforce. He understands and respects the differences of individuals, focuses on elevating and prioritizing actions to build a more inclusive team to foster innovation and create more positive impact on the organization. He holds a bachelor's degree in Material Science & Metal Engineering from Hongik University in Korea. He is a member of the KOCHAM Vietnam.
Colin McCandless
Area General Manager, IHG Vietnam & Laos
AmCham Vietnam
Read more
Colin McCandless is the Area General Manager for IHG, Vietnam & Laos based at the InterContinental Saigon Hotel & Residences. IHG is one of the world's leading hotel companies, whose purpose is to provide True Hospitality for everyone. IHG Vietnam is an accredited AON Best Employer which operates 9 Hotels in Indochina with a strong pipeline of pre-opening Hotels.
Colin has extensive experience working with institutional investors within the Asia Pacific region in key gateway cities over the last 16 years with IHG. The last seven years have been spent in Vietnam with his wife Stacy and two young children. Prior to hospitality Colin was a fully qualified Commercial Pilot and still enjoys flying for relaxation when time and weather permits.
Colin is extremely passionate about development both for self and for his teams. Most recently, he worked with numerous stakeholders to set up a "Mentor, Best Practice and Exposure Program" for Indochina.
Born in Germany, Colin has a diploma in Science from the University of South Australia.
Kevin Moore
Managing Director, Vietnam Waste Solutions
AmCham Vietnam
Read more
Kevin has been the Managing Director for Vietnam Waste Solutions (VWS) since 2006. Prior to that he worked as a private consultant for Veolia Environmental Services/Onyx in Hong Kong for 6 years. In the 12 years preceding that, Kevin worked at Waste Management Inc., in California. Previous employment included 7 years at PSE&G in New Jersey. Kevin has previously served on the Vietnam AmCham Board of Governors.
VWS is a subsidiary of California Waste Solutions, a private firm with recycling operations in Oakland and San Jose, California. His position here in HCMC requires direct interaction with HCMC leaders and Departments as well as various Ministries in Hanoi. VWS represents the first privatization of a public service enterprise and one of the larger environmental services investments into Vietnam. This investment project valued at over $150 million is based upon a 50-year contract with the People's Committee of Ho Chi Minh City to effectively manage waste delivered by the City to the Da Phuoc Waste Management Facility. VWS is expanding their services with a new project in Long An province that will move beyond landfilling to waste transformation, developing "waste to energy" and "waste to feedstock" solutions.
Kevin has worked in the waste management and environmental industry for 31 years. Raised in Northern New Jersey and a graduate of Rutgers University.
Jonathan Moreno
General Director, Diversatek Vietnam
AmCham Vietnam
Read more
Jonathan is the General Director of Diversatek Vietnam (formerly Sandhill Scientific and Medovations), a member of the Diversatek group of medical technology companies. Diversatek opened its Vietnam manufacturing operation in Binh Duong, December 2010, representing a US high-technology investment, and continues to expand.
In 2012, Jonathan helped form AmCham's first Manufacturing Committee. The committee was established to increase value for AmCham's manufacturing sector members, including the supporting supply chain, by providing networking opportunities and collaborative solutions which cannot be achieved as effectively by individual member companies. Key initiatives included advocacy related to trade facilitation and the annual "Supplier's Day."
Currently, Jonathan provides leadership for AmCham's Healthcare Committee.  The Healthcare Committee is a critically important network uniquely representing AmCham companies across all healthcare sectors such as pharma; medical devices; hospitals and clinics; physicians; pharmacies; diagnostics; and supporting services.
Jonathan also served on the AMCHAM HCMC Board of Governors from 2013-2018. He served as Vice Chair in 2016 and Chairman in both 2017-2018.   Additionally, he served on the Vietnam Business Forum Management Board.
He holds a Bachelor's degree in International Studies from the University of South Carolina and a MBA from the University of Hawaii.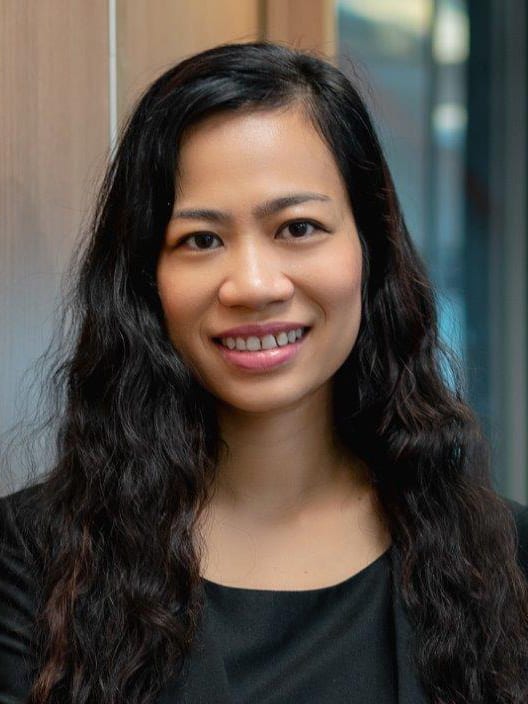 Thuy Hang Nguyen
Partner, Baker & McKenzie
AmCham Vietnam
Read more
Hang Nguyen is a partner at Baker McKenzie and the current head of the Employment and Labor practice in Vietnam.
Hang's practice focuses on Employment and Labor, M&A as well as Corporate and Compliance matters. Her diverse working experience, broad knowledge in various areas of law, and business management qualifications allow her to provide clients with practical and commercially savvy legal advice in order to create effective, strategic and innovative solutions to navigate the ever-changing legal landscape of Vietnam. As head of the Employment and Labor practice, Hang is responsible for developing and providing strategy for the practice as well as for training and coaching team members and coordinating the global and regional employment practices in relation to Vietnam. She is also a member of the Steering Committee for the Firm's Asia Pacific Employment Practice Group and the Global Immigration and Mobility Group.
Hang received her legal education in both Vietnam and the U.S., having obtained a bachelor's degree in International Law from the Diplomatic Academy of Vietnam, an LL.M. from the Southern Methodist University's Dedman School of Law, and an Executive MBA from the University of Hawaii's Shidler College of Business. Hang is one of the few lawyers dually admitted to practice law in New York State and Vietnam. During her almost 14 – year tenure at Baker McKenzie, Hang has worked at the Firm's Vietnam, Barcelona and London offices.
Hang has been an active member of AmCham since 2006 and has represented AmCham as well as the broader business community at numerous expert working groups, seminars and conferences. She has also worked face-to-face with Vietnamese Government agencies for more than a decade on employment and labor law issues, including in the overhaul of the Vietnam Labor Code in 2012 and the adoption of various implementation decrees and circulars and the ongoing revision the Labor Code. In 2013, she was nominated to become the Chair, and since 2017 Co-Chair, of AmCham HR/Labor Committee and has held this position ever since. In her capacity as Chair/Co-Chair, she has revived the committee through organizing successful events and activities for the benefit of AmCham members and administering the AmCham scholarship program. Hang is also the point of contact for the Board of Governors and other Committees when it comes to employment and labor issues. She has been deeply involved in policy discussions on labor and employment issues arising during the negotiation of the Trans Pacific Partnership Agreement, and other issues that affect the business community in Vietnam, frequently acting as an adviser to US Government agencies and industry stakeholders on Vietnam employment and labor law.
Hang was elected as a Governor of the Board of Governors in 2017. She is a member of the Executive Committee-plus, being in charge of Committees and advocacy. Hang has been a very active Governor, and played a key role in driving advocacy activities of the Chamber. In July 2019, she joined other Governors to represent Ho Chi Minh City Chapter in the 2019 Doorknock mission of Amchams of Asia Pacific to Washington D.C. to meet with the US Administration and Congress on trade and investment issues between the US and Asia Pacific region. During the mission, she also arranged a meeting between AmCham Vietnam and Vietnamese Embassy to the US and Trade Office to discuss US-Vietnam bilateral trade and investment issues.
Minh Nguyen
Country Manager, Vietnam, Aetna International
AmCham Vietnam
Read more
Minh Nguyen oversees the Vietnam market for Aetna International in Asia Pacific.  In this role, she is responsible for managing relations with fronting partner and reinsurance companies, ensuring operational excellence, ensuring that international standards are provided to valued customers, exploring new market segments and overseeing business operations nationwide.  An Aetna employee since 2015, she was previously with AIG (American International Group) for nearly a decade. With her broad experience and expertise, Minh is a proven leader and strategic thinker.
Aetna is a Fortune 50 company and one of the five largest health insurers in the United States, providing 46.7 million people with coverage as well as information and resources to help them make better informed decisions about their healthcare. CVS is the largest pharmacy health care provider in the U.S, with integrated offerings across the spectrum of pharmacy care, serving 5 million customers served by CVS every day. The recent merger of CVS Health and Aetna will have US$260 billion in annual sales, making it the second largest corporation in the US and the seventh largest corporation in the world by revenue.
Aetna continues to rapidly expand across Asia, most recently by licensing in Hong Kong in 2018 and acquiring Bupa Thailand in 2017, as well as launching its Asian Innovation Hub in Singapore in 2016, which seeks to develop region-specific health solutions tailored for local markets in Asia. Vietnam is the fasting growing insurance market in the world and has one of the fastest growing ultra-high net worth (UHNW) population . We have the ambitious vision to make Vietnam into a market with new and unique health cover options which go 'broader and deeper' into the local health care market,bringing high quality and affordable healthcare to many more Vietnamese.
Soren Schouw Pedersen
Vice President, SSA Marine, Seattle USA
AmCham Vietnam
Read more
I'm a Danish national and have worked in Asia for more than 25 years. I'm today heading up SSA Marine's regional activities. SSA is an international port operator headquartered in Seattle USA. The company is active in more than 250 locations across 5 continents. SSA's activities span cruise, bulk and container handling. We employ about 17,000 staff globally.
Here in Vietnam, SSA owns and operates two seaport joint ventures employing about 400 staff. The companies represent investments of around USD 400 million. Our port facilities in Cai Lan (Ha Long) and Cai Mep (Vung Tau) are equipped with the most modern and technically advanced cargo handling machinery available. Both terminals are deep water facilities capable of accommodating the largest cargo and passenger ships.
SSA's cruise terminals serve 6.6 million passengers annually.
Maritime transport is essential to the world's economy as over 90 % of the world's trade is carried by sea (*). Ships need effective port facilities to load and off load cargoes. SSA Marine is among the world's largest privately held port operators.
Walt Power
CEO, The Grand Ho Tram
AmCham Vietnam
Read more
Walt Power, the CEO of The Grand Ho Tram, is one of Asia's longest serving gaming industry executives. Prior to his arrival in Vietnam eight months ago, Walt spent the last 18 years as one of the leaders of Macau's gaming industry. He was instrumental in the development, opening and operation of the "Sands", the first western casino in Macau.
A 28-year gaming industry veteran, he has accumulated extensive international experience through executive leadership positions at gaming resorts in the United States, Argentina, South Africa and the Philippines, in addition to his work in Macau.
Mr. Power is a former United States Marine Corps Major and Naval Aviator. During his time in the cockpit, Walt earned the designations of Helicopter Aircraft Commander, Flight Instructor/Evaluator, and Functional Test Pilot. He also served with the first International Peace Keeping Force in Beirut, Lebanon in August 1982, participating in the initial evacuation of non-combatants from that war torn country.
Walt earned his Bachelor Degree and Master Degree in Business Administration from the University of Michigan.  Walt holds a brown belt in Brazilian Jiu Jitsu, and was a medalist in his age group at the 2014 and 2019 World Master Championships.
Sai Ramana Ponugoti
General Director, P&G Vietnam
AmCham Vietnam
Read more
Sai Ramana Ponugoti (Sai) leads P&G's Vietnam operations since 2019, serving Vietnam consumers through leadership brands across all P&G categories: Baby Care, Hair Care, Fabric & Home Care, Skin & Personal Care, Feminine Care, and Oral Care. He works with distributors and retail partners to create value for consumers through defining Commercial strategies, leading Business Operations and building Go-to-market strategies – to ensure joint category growth.
Sai joined P&G in 2001 as an Account Executive in India. In his various leadership roles in P&G, he has got extensive experience in leading diverse businesses across trade channels spanning different consumer goods categories. He has demonstrated expertise on developing markets, having worked across Asia Pacific, Middle East, Africa markets and by leading P&G's Global Innovation center for low-income-markets. He also has extensive experience on 'Shopper-centric retail innovation' and partnering with retailers to create category value.
He is passionate about making a difference to the lives of consumers in developing markets through P&G brands. A strong advocate for talent development, Sai has worked across diverse cultures through his P&G career and lived in India, Singapore and Switzerland. Before being appointed General Director for P&G Vietnam, Sai was the 'Sales Head of India-Middle East-Africa' for Baby Care and a key member of the Regional Business Unit leadership team based in Geneva, Switzerland for the period 2016 – 2019.
Sai graduated with a Bachelor of Technology degree in Mechanical Engineering from National Institute of Technology, Calicut, and holds an MBA degree in Marketing & Operations from Indian Institute of Management (IIM), Lucknow.
Sai is married to Swetha and has 2 children: Anshul, 11 years old and Aditi, 7 years old.
Alexandra Sasha Stinchfield
Associate Managing Director and Chief of Staff, Arizona State University
AmCham Vietnam
Read more
Sasha is the Associate Managing Director and Chief of Staff of Arizona State University Vietnam Representative Office.
Ranked the past four years by US News and World Report as the #1 most innovative university in America, ASU is the largest comprehensive public university in America with 120,000 students and over $500M in annual research expenditures. Since 2009, ASU has been a force in Vietnam leading public-private partnerships to improve the quality of higher engineering education. These capacity projects leverage deep and diverse government-industry-academic partners that share a goal of tightly linking science, technology, engineering, and math (STEM) instruction in Vietnamese higher education institutions to produce work-ready engineers and scientists. By strategically working with industry and government partners, we extend ASU research, faculty and programs to support the development of a world class and competitive workforce and technology innovation ecosystem for Vietnam. To date, over 10,000 Vietnamese faculty have been trained at ASU in Arizona and in Vietnam with many programs achieving peer-evaluated regional and international level accreditation creating sustainable quality and assessment systems to validate student learning outcomes are achieved.
Since 2016, Sasha directs the ASU Vietnam project operations and leads a portfolio of education innovation and workforce development projects working closely with the public and private sectors. Before joining the ASU Vietnam team, Sasha was the global portfolio manager in the ASU International Development Office where she led the strategic development of new grants, project management, processes innovation and relationship management. In this role, she led technical project activities in Brazil, El Salvador and Kenya.
Sasha graduated from Arizona State University with BA in Global Studies and Master's in Sustainability Leadership with research focused on strategies for corporate social responsibility programs. As a former collegiate track and field athlete, Sasha enjoys kickboxing, Muay Thai, running and traveling.
Winnie Wong
Country Manager, Vietnam, Cambodia & Laos, Asia Pacific, Mastercard
AmCham Vietnam
Read more
Winnie Wong is responsible for growing Mastercard's business in Vietnam, Cambodia and Laos. With her experience in consumer and corporate payments and banking, she brings fresh perspective to the markets on digital payments and solutions.
Prior to her current role, Winnie was the Commercial B2B Sales Head for the region, where she was responsible for driving growth for Mastercard's Business-to-Business (B2B) solutions across Asia Pacific. This includes working with governments, banks and corporations on trade digitization with the aim of improving efficiency and transparency, especially for cross-border trade.