The World Bank (WB) will earmark US$1.8 billion for Việt Nam in 2017 to support the nation's poverty reduction, water resource management, agricultural development and urban improvement efforts.
Visiting WB CEO Kristalina Georgieva said this in Hanoi yesterday as she met with Prime Minister Nguyen Xuan Phuc and National Assembly Chairwoman Nguyen Thi Kim Ngan.
Prime Minister Phúc said that the WB has played a valuable role in the country's socio-economic development, especially poverty elimination.
He said the coming five years were important to the country because, apart from promoting economic growth and ensuring social welfare, Việt Nam would have to build a solid institutional foundation for realising set orientations and strategies.
He said the top targets are to stablise the macro-economy, promote implementation of strategic breakthroughs, restructure the economy according to reforms in the growth model, ensure social welfare, proactively respond to climate change, and strive for an average growth rate of 6.5-7 per cent between 2016 and 2020.
However, an array of challenges remained in the course of integration and economic development, as also the serious impacts of climate change. Therefore, the country needs assistance from sponsors, including the WB, to help achieve the set targets, the PM said.
Effective use of funds
Given the high demand for investment and other forms of support, Việt Nam hopes that other than assistance from the International Development Association, the WB would also step up contributions from its affiliates like the International Bank for Reconstruction and Development, the Multilateral Investment Guarantee Agency, and the International Finance Corporation, so as to maximize the effectiveness of support to Việt Nam, Phúc said.
He pledged that Việt Nam would use foreign loans, including those provided by the WB, in an effective fashion.
Georgieva said Việt Nam's success was the result of sound policies. She thanked the Vietnamese Government and agencies for their close co-operation with the WB and hoped that the strong partnership would be maintained in the future.
The WB was willing to work with the Vietnamese Government to maintain its growth momentum as also help the country counter economic and natural disaster shocks, she said.
Việt Nam still had much room for economic development, she said, adding that the WB would continue co-operating with country.
WB's assistance this year would focus on poverty reduction and urban improvement projects, she said.
Resource allocation
She also asked the Vietnamese Government to ensure that resources are allocated for projects using WB loans.
At a press conference yesterday, Georgieva said that WB's financial assistance to Việt Nam in 2017 would mainly focus on poverty reduction, urban improvement and water resources management.
She suggested that Việt Nam pays close attention to factors that would strengthen the capacity to regulate, increase Government transparency and improve conflict resolution mechanisms.
"There are reforms (needed) that are quite critical in terms of governance, which are particularly relevant to the business community as well the citizens of Việt Nam as a whole," she said.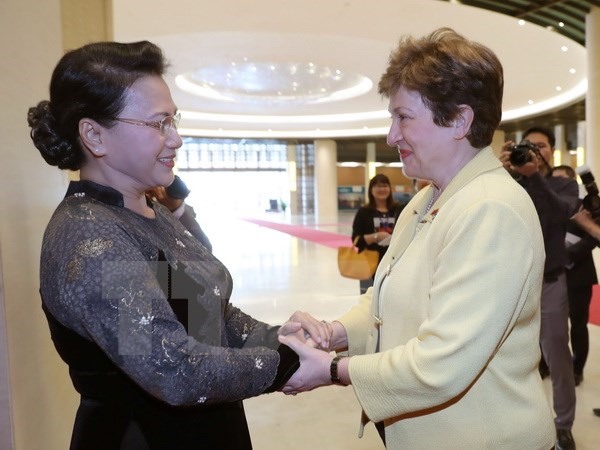 National Assembly Chairwoman Nguyễn Thị Kim Ngân (L) receives Georgieva in Hanoi yesterday. — VNA/VNS Photo Trọng Đức
Many difficulties
Later yesterday, National Assembly Chairwoman Nguyễn Thị Kim Ngân received Georgieva.
She expressed her wish that the WB would continue supporting Việt Nam in implementing millennial sustainable development goals (SDGs), stressing that Việt Nam was committed to using financial assistance effectively.
As a developing country, Việt Nam still faced many difficulties in its international integration and economic development process, particularly theimpacts of climate change and rising sea levels, so it needed assistance from the international community, including the WB, to help the meet its goals, Ngân said.
Appraising the WB's completion of a draft Việt Nam-WB Country Partnership Framework (CPF) for the 2017-2022 period, Ngân said the CPF was being prepared at a time when Việt Nam has shifted to a new development period with many new opportunities and challenges.
The CPF will be a strategic document to implement set targets and policies, she said, suggesting that the WB works closely with relevant agencies of the Vietnamese Government to reach consensus on its contents so that it can be finalised soon.
Ngân reiterated that the Vietnamese parliament would, in discharging its duties of supervising the implementation and management of financial assistance from the WB and other sources, ensure that the capital was used effectively.
Georgieva said the WB was willing to support Việt Nam in implementing its socio-economic development plans and policies in the 2016-2020 period.
She said the bank has earmarked $1.8 billion for Việt Nam this year to support the country in a number of areas including poverty reduction, with particular focus on mountainous and ethnic minority-inhabited areas, water resources management, and agricultural development.
She added that the WB would support Việt Nam  in legislative tasks too, and continue co-operating with the Vietnamese Government in reforming State-owned enterprises.
It would also work with Việt Nam in tackling climate change challenges and increase investment co-operation in the education sector so as to create life-long learning opportunities for the people, she said. — VNS
Source: Vietnamnews