The Earth Day Compostable Campaign to minimize the use of plastic bags and replace them with compostable bags made from corn starch has been officially launched on the occasion of Earth Hour by An Phat Holdings. It is estimated that dozens of tons of plastic bags will be replaced thanks to the campaign.
Supermarket, restaurant chains and residential areas in Hanoi and Ho Chi Minh City are working with An Phat Holdings to minimize the use of plastic bags.
In the first phase of the campaign, BigC, Aeon, Intimex, Ls Place, Unik Mart, Seika, Teekiu, V + Hoa Binh and Nam An all joined together. For restaurants and café chains, Saint Honore stores and a number of others took part. For urban areas, the EcoSunday fair in Ecopark enthusiastically responded thanks to a shared common orientation: green development and environmental protection.
To accomplish the above objectives, the Earth Day Compostable campaign deployed two main activities. Firstly, it offered advice to consumers about how to reduce the use of plastic bags. Secondly, participants in the campaign used compostable bags AnEco made from corn starch. As its name suggests, AnEco compostable products easily decompose within six months to one year without producing microplastics that affect human health and the environment.
The type of bag used in Earth Day Compostable Campaign is AnEco bag – the first compostable product produced by Vietnam since late 2015.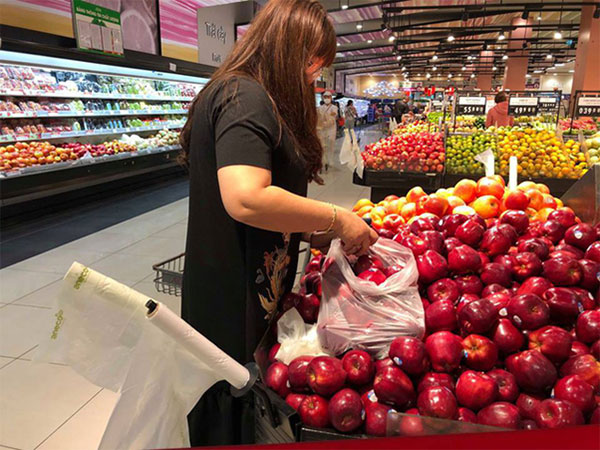 With the total amount of plastic bags currently consumed reaching tons per day from supermarkets, restaurants and urban areas, replacing them with compostable bags will help save our living environment. Moreover, the participation of big enterprises in this campaign will be the first step and motivation for practical, regular and long-term actions. It also provides inspiration to motivate other businesses, organisations and communities to make strong changes to build a green economy and a clean environment in Vietnam.
An Phat Holdings' Earth Day Compostable campaign has also co-operated with many other organizations and individuals on environmental protection activities, including the Central Youth Union, the "Rowing & Picking Up" event to clean the Saigon River, and the Earth Day event of "Clean & Green Vietnam" in Hanoi and Ho Chi Minh City.
Phase 2 of the Earth Day Compostable Campaign will take place from April 20-22, promising to have more supermarkets, restaurants, urban areas and organisations to join and spread the message of environmental protection.
Nguyen Le Hang, Deputy CEO of An Phat Holdings Group, said: "On March 22, at Big C Thang Long Supermarket, there was a successful rehearsal of the Earth Day Compostable Campaign. Within a morning, more than three thousand customers were instructed to minimize the use of plastic bags and instead use AnEco compostable products made from corn starch. Everyone welcomed the program enthusiastically. An Phat Holdings is confident in the Earth Day Compostable Campaign thanks to co-operating with businesses and organisations that share a common goal to reduce plastic waste and aim for a "green" target. We believe that with co-operation like this, it is absolutely feasible to protect the living environment in particular and the Earth in general. This is also a way to share the burden in dealing with plastic waste with the government and communities."
Source:
Dozens of businesses join hands to reduce plastic waste to protect the environment
https://www.amchamvietnam.com/wp-content/uploads/2019/04/vietnamnews-photo.jpg
450
600
AmCham Vietnam
https://www.amchamvietnam.com/wp-content/uploads/2019/01/AmCham-Vietnam-Logo-500px.png
AmCham Vietnam
2019-04-15 11:37:10
2019-04-15 11:37:10
Dozens of businesses join hands to reduce plastic waste to protect the environment