REGISTRATION GUIDELINE
Virtual participation only. Please register to receive the Zoom link.
Decree 152 has made the process of obtaining or renewing work permits for foreign experts far more complicated. The COVID-19 pandemic has exacerbated this process, particularly with respect to the procedures for obtaining travel approval for inbound foreigners. MOLISA has provided some helpful guidance, but much remains ambiguous or challenging. Join a discussion with a panel of experts: Baker & McKenzie Partner, Labor Law Expert, and AmCham Board Member Hang Nguyen; KPMG Vietnam Partner in charge of Global Mobility Services Andrea Godfrey; and First Solar Vietnam Senior Human Resources Manager Han Nguyen to learn how to navigate the current regulatory environment and ensure you can plan for and meet your HR needs.  Join this event if you are a Foreign Expert, HR Director, CEO, or Head of School managing or overseeing your company's talent team.
---
Please also save the date to join our follow-on event:
What to Expect in Foreign Expert Travel (and Return) to Vietnam: a Nitty-Gritty Practical Guide (virtual), Tuesday, July 6, 10-11:15AM. TBD
AGENDA
| | |
| --- | --- |
| 9:45 AM | Check-in |
| 10:00 AM | Panel Discussion and Q&A |
| 11:15 AM | Event ends |
COST
Virtual attendees
AmCham Members: VND 200,000 | Non-members: VND 350,000
Reservations/cancellations must be received by 24 hours before the event, and must be made on-line or by email. We are unable to accept reservations/cancellations by telephone.
SPEAKERS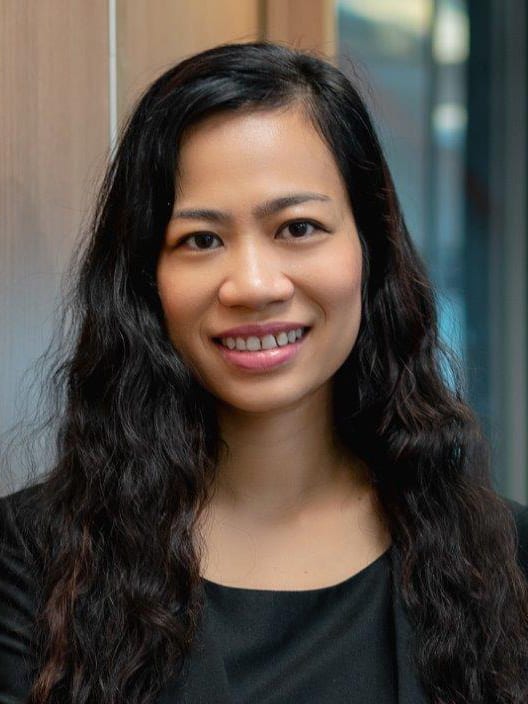 Hang Nguyen
Partner, Labor Law Expert, Baker & McKenzie
Hang Nguyen is a Baker McKenzie partner and head of the Employment and Labor practice in Vietnam.
Hang's practice focuses on Employment and Labor, M&A, and Corporate and Compliance matters. Her diverse qualifications allow her to provide clients with pertinent legal advice and create unique solutions to navigate Vietnamese legalities. Head of the Employment and Labor practice, Hang develops strategy, trains team members, and coordinates employment practices. She is a Steering Committee member for the Firm's Asia Pacific Employment Practice Group and Global Immigration and Mobility Group.
Hang obtained a bachelor's degree in International Law from the Diplomatic Academy of Vietnam, an LL.M. from the Southern Methodist University's Dedman School of Law, and an Executive MBA from the University of Hawaii's Shidler College of Business. Hang is authorized to practice law in New York State and Vietnam. During her forteen years at Baker McKenzie, Hang has worked in Vietnam, Barcelona and London.
Hang became an AmCham member in 2006. She has been Chair/Co-Chair of the HR/Labor Committee since 2013. She revived the committee through organizing events and administering the scholarship program. Hang is the point of contact for the BoG and other Committees for employment and labor issues. She has been involved in policy discussions for the Trans Pacific Partnership Agreement and frequently acts as an adviser to US and Vietnamese Government agencies on employment and labor law issues.
Hang became an AmCham Board member in 2017. An Executive Committee member, Hang leads the Committees and advocacy. In July 2019, she joined the BoG to represent HCMC in the 2019 Doorknock mission of Asia Pacific AmChams. They traveled to Washington D.C. and met the US Administration and Congress on trade and investment. There, she arranged a meeting with the Vietnamese Embassy and US Trade Office to discuss bilateral trade and investment.
Andrea Godfrey
Partner, Head of Global Mobility Services, KPMG in Vietnam
Joined KPMG in Vietnam in November 2017 to enhance global delivery service of the tax practice working alongside highly experienced Vietnamese tax professionals in a rapidly evolving environment. Currently leads the GMS team across Vietnam.
EY UK & Ireland, Andrea had a variety of roles including sitting on the UK&I Engineering & Construction Leadership team working alongside the Global Chair.
Two years in the US as a full time mother and on her return qualifying as a Maths teacher (11 to 18) and teaching for 2½ years.
Head of tax for two of the largest UK Infrastructure Groups. She sat on project management teams providing tax advice on the delivery of major global infrastructure projects including the Tsing Ma Bridge in Hong Kong, LNG plants in Indonesia and India, hydroelectric power projects in Malaysia and Lesotho and the Bibliotheca in Alexandria, Egypt.
Han Nguyen
Senior Human Resource Manager, First Solar Vietnam
Joined First Solar Vietnam since April 2019 as Senior Human Resource Manager to direct and implement all HR activities in site. During unprecedented Covid19 pandemic, she extended to support immigration matters for expats and high skill workers from US, Europe and Malaysia to enter Vietnam to ensure the unstopped operations.
Han obtained Bachelor's degree in Finance & Banking from HCM National University and MBA from Open Malaysia University.
Before joining First Solar, Han worked in FMCG Company with different roles as Total Reward, Human Business Partner and Change Management.
MODERATOR
Mary Tarnowka
Executive Director, AmCham Vietnam
Mary Tarnowka joined AmCham Vietnam as Executive Director in August 2019. She continues to carry out AmCham's long-term mission to strengthen the U.S.-Vietnam trade and investment partnership and serve as the "voice of American business" in Vietnam, established when it was founded informally just after the trade embargo was lifted in 1994. Under her leadership, AmCham Vietnam has been revitalized. It is one of the largest, diverse, and inclusive foreign business associations in Vietnam. Its network of active committees and extensive range of events provide members valuable opportunities for professional networking, business intelligence, advocacy, and business promotion. AmCham strives to be the most strategic and influential business association in Vietnam – that drives innovation and sustainable growth and helps its members succeed. A community you want to join!
Mary is an international trade and economic expert with decades of experience managing organizations and policy advocacy in Asia. Prior to joining AmCham, Mary served as the U.S. Consul General in Ho Chi Minh City. As a career diplomat and member of the Senior Foreign Service, Mary has served throughout the Indo-Pacific region, including postings in Seoul, Delhi, Shanghai, and Taipei, as well as at the State Department's China Desk and the Office of the U.S. Trade Representative. Before joining the State Department, Mary worked as a CPA and Tax Manager at KPMG's San Francisco Office. Mary also serves as a Director on the Board of VinaCapital GS Energy.