Critics of global trade might find something to celebrate in the advent of 3-D printing.
Raoul Leering, head of international trade analysis at at ING, writes that growth in 3-D printing could wipe out almost one-quarter of cross-border trade by 2060. His review of the technology's landscape kicks off this week's economic research wrap, which also touches on innovation clusters, attitudes about men and women in the American workplace, and the demographics of art spending. Check back each week for a rundown of new and pertinent economic studies.
Printing away trade flows
If high-speed 3-D printing makes mass production using the tool viable, it could cause major disruption to the global flow of goods, Leering writes. About half of manufactured good could be printed by 2060 if the current growth of investment in the technology persists, he estimates. That would cut world trade by a quarter, because it would require less labor and reduce the need to import intermediate and final goods from low-wage countries. That could cause trade deficits to narrow for major importers, though countries with a trade surplus could suffer.
That's Leering's slow-growth scenario. If investment ramps up, doubling every five years, he guesses that as much as two-fifths of global trade could disappear. His estimates are uncertain (there is no data on the value of 3-D printed products and related services worldwide, and the technology hasn't yet evolved to the point that it's enabling mass production), but they highlight that there's potential for disruption.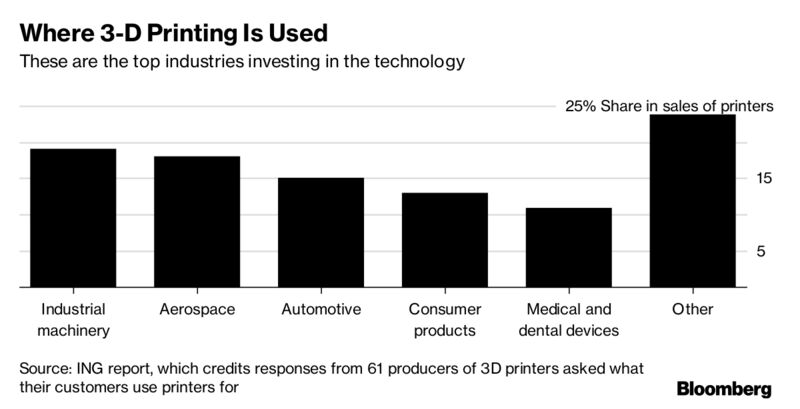 3D Printing: A Threat to Global Trade
Published Sept. 28, 2017
Available on the ING website
The geography of innovation
Genius settles in packs. New Philadelphia Fed research finds that patents from a given cluster are much more likely to cite other patents that originated from the same geography, but the effect fades quickly once you get more than five miles away, using data from the NBER Patent Data Project that spanned 1996 to 2006. For labs in America's coastal Northeast, citations were up to six times more likely to come from the same cluster as earlier patents than chance would predict, on average. In California, citations are up to five times more likely to come from the same cluster.
Why does this matter? Innovation hubs are emerging as one driver behind the diverging fates of town and country in the U.S. – check out this Enrico Moretti research for more on that topic.
Localized Knowledge Spillovers: Evidence From the Spatial Clustering of R&D Labs and Patent Citations
Published September 2017
Available on the Philadelphia Fed website
American women aren't required to be providers
American men and women don't think it's essential for females to be the family breadwinner.
About 72 percent of men and 71 percent of women say that being able to support a family financially is very important for a man, according to a Pew Research survey, but that drops to 39 percent of women and 25 percent of men when the same question is asked about wives. This probably reflects reality, to some extent – males in families generally make more. Just 28 percent of women who were married or co-habitating earned more than their partner or husband.
Americans See Men as the Financial Providers, Even as Women's Contributions Grow
Published Sept. 20, 2017
Available on Pew Research Center website
Arts consumption climbs sharply with income
Spending on movies, sports and arts jumps strongly across incomes levels, based on a recent U.S. Bureau of Labor Statistics "Spotlight On Statistics" feature.  People who make $200,000 in pre-tax income or more spend morethan $3,000 a year on arts and entertainment, compared to the $424 spent by those who make $50,000 to $69,999.  An educational divide across entertainment consumption also exists across a range of activities, though the gap is starkest when it comes to art gallery attendance: 12.5 percent of people who had a high school degree went to a museum or gallery in 2012, versus 41.3 percent of people with a bachelor's degree or higher. There were also differences across age: Generation X, born between 1965 and 1980, spent the most on entertainment admissions.
Expenditures on Admissions to the Arts, Movies, Sporting Events, and Other Entertainment
Published September 2017
Available on the Bureau of Labor Statistics website
Source:
How 3-D Printers Could Erase a Quarter of Global Trade by 2060
https://www.amchamvietnam.com/wp-content/uploads/2017/10/3D-Printer_Photo-Zoran-Milich.jpg
1467
2200
AmCham Vietnam
https://www.amchamvietnam.com/wp-content/uploads/2019/01/AmCham-Vietnam-Logo-500px.png
AmCham Vietnam
2017-10-16 09:35:34
2017-10-16 10:16:40
How 3-D Printers Could Erase a Quarter of Global Trade by 2060