To establish best HR practices in Vietnam as relates to providing information regarding the employment situation in Vietnam
To publish its findings as a guide to all member companies
To exchange information, share knowledge and experience to help each other as well as obtain information from members of other AmCham Committees
To keep members updated on the latest and relevant government regulations and policies as relates to labor practice
To interact with other AmCham Committees and respond to their information request
To add membership value by being an active resource center on HR-related issues
Leadership Team
Co-Chair
Yen Pham, HR Manager, Intel Products Vietnam
Yen Pham is the Human Resources manager at Intel Products Vietnam, she has more than 22 years experiences in HR, Yen specializes in HR roles in Manufacturing, focus on employee engagement and Employee relation. She has a strong believer in the power of positive thinking in the workplace.
Co-Chair
Ha Dang, Founder and Strategic Advisor, Respect Vietnam
Ha Dang is the Founder and Strategic Advisor of Respect Vietnam, a technical organization that has been at the forefront of mindset transformation in people development & organizational excellence in Vietnam & in the region.
She is also the Co-creator of WEATWORK.CO, the organizational-learning & team-aligning platform which is known for turning complicated workplace issues into simple, unique & high-impacting models & initiatives.
In the past 15 years, Ha Dang has been actively participating in policy advocacy in labor & trade linkages in Vietnam's entry into ESG-recognising Free Trade Agreements, where women's rights & economic benefits have been promoted.  Her real-time studies & technical insights are based on organizational interventions that drive leadership & decisions on women's empowerment & their roles in hundreds of workplaces across Vietnam & a few areas in Asia.
During Covid19, she keeps working on simplifying work processes & making better sense of women's roles in keeping their businesses open as well as giving them the digitalized knowledge hub that turns their female voices into better actions.
Vice-Chair
Phan Vu Hoang, Tax Partner & Chief Talent Officer, Deloitte Vietnam
Hoang is the Tax Partner and Chief Talent Officer of Deloitte Vietnam. Hoang has 25 years of experience in international tax planning, tax advisory, tax controversy, tax compliance, as well as strategic finance and business advisory services to the needs of multinational businesses operating in Vietnam in a wide variety of industries such as consumer, banking and financial services, trading, real estate, manufacturing, oil & gas, and telecom.
Hoang has led various tax initiatives for MNE's operations in Vietnam, as well as group structuring and due diligence for foreign investors and foreign invested entities in Vietnam.
Hoang actively contributes comments and recommendations to the Ministry of Finance regarding draft tax regulations via the Vietnam Business Forum, Vietnam Tax Consultants Association (VTCA) and other organizations. Hoang regularly speaks at Tax Dialogue event alongside a representative of the Minister of Finance and leaders of the Ho Chi Minh City tax authority.
Hoang is a faculty member of the Deloitte University Asia Pacific and conducts various leadership programme facilitation for Deloitte leaders in the SEA and Asia Pacific.
Vice-Chair
Phuong Nguyen, Country Business Development Manager & Human Resource Partner, Dow Chemical LLC
Nguyen, Kim Phuong is Dow Vietnam's General Director who drives business growth & operation for Dow entities in Vietnam
Kim Phuong joined Dow since 1996 and had experience of working in various functions including Human Resource, EHS and Public Affair. From 2009, she'd been appointed as Chief Representative and Human Resource Manager at Dow Chemical Rep Office until its transformation to LLC in 2017 where she had assigned to be as Country Business Development Manager & HR Partner prior to her current role.
Kim Phuong has been an active contributor in establishment and development Dow entities in Vietnam including Rep Offices, Manufacturing and LLC. In external relation, she also playing a role of Vice-Chairman of Amcham Human Resource Committee in HCMC from April 2019 till date.
Kim Phuong graduated from The Maastricht School of Management, Netherlands with Honors. She also held a Master Degree in Business Administration, major of Strategic Management and from Ho Chi Minh University with Bachelor degree in Business Administration.
Legal Advisor
Phong Luc, Associate, Baker & Mckenzie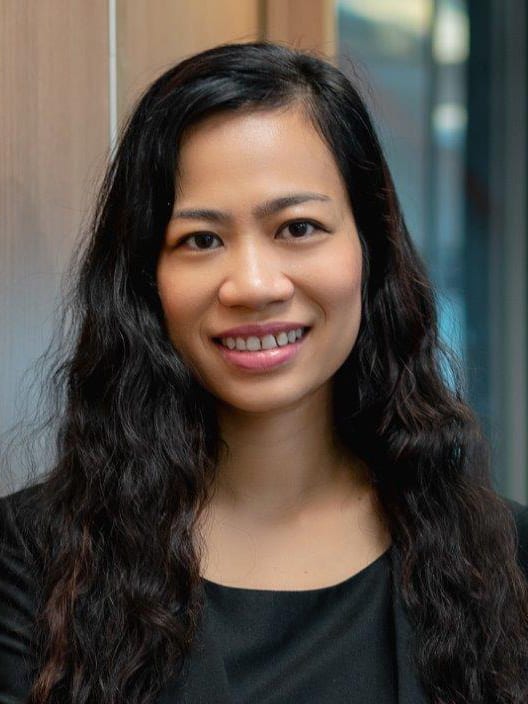 Board Liaison
Hang Nguyen, Partner, Baker McKenzie
I have been an active member of AmCham since 2006 and has represented AmCham as well as the broader business community at numerous expert working groups, seminars and conferences. In 2013, I was nominated to become the Chair of AmCham HR/Labor Committee, and has held Chair, Co-Chair and Board liaison for the Committee ever since. In my capacity as Chair/Co-Chair, I have revived the HR Committee to become one of the most active committees within AmCham in organizing networking and knowledge sharing events for members as well as in advocacy engagement, especially in the areas of labor legislation and HR issues. I have been deeply involved in policy discussions on labor and employment issues arising during the negotiation of the Trans Pacific Partnership Agreement, frequently act as an adviser to Government agencies and industry stakeholders on Vietnam employment and labor law.
I was elected to the Board of Governors in 2017, and was a member of the Executive Committee-plus, being in charge of Committees and advocacy. In 2021, I was appointed as AmCham representative at the Advisory Council for Administrative Procedures Reform (ACAPR). I have been an active Governor, and contributed to drive advocacy activities of the Chapter. I serve as the member of the Advocacy Panel and review and approve all position papers on behalf of the Board.
I received my legal, diplomacy and executive business management education in both Vietnam and the U.S. I am one of the few lawyers dually admitted to practice law in New York State and Vietnam, and during my almost 15 – year tenure at Baker McKenzie, I have worked at our firm's offices in Vietnam, Spain and the UK. This diverse and well-grounded cultural and professional background gives me a unique capability to understand both US and Vietnamese sides as well as to transcend the divide between foreign/international and Vietnamese cultures and business groups. I believe that I will bring in unique and valuable perspectives and contribution to the ExCom and the Board.
Reference Materials for Members