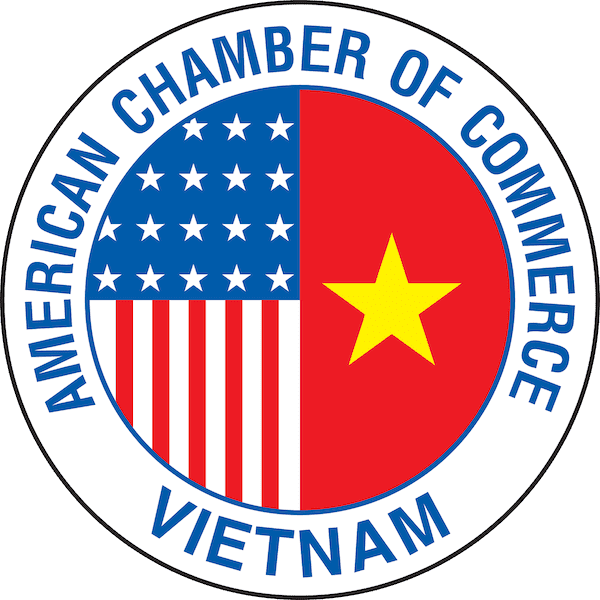 Keep up-to-date about U.S.-Vietnam trade and investment with Weekly Updates.
Upcoming Events and Activities (next two weeks)
Plan ahead. Click here to see all upcoming Events and Committee Meetings
Th, Jun 12 Members Night: Economic Outlook Panel Discussion and Cocktail Reception Join other members in a panel discussion about the economic outlook in Vietnam, followed by a networking cocktail reception to welcome the beginning of summer.
Wed-Thu, Jun 11-12 Apollo Professional Development: Manage efficiently. Achieve more. Communicate better. Apollo Professional Development training is now available through our Public Programme. Courses in Presentation Skills, Time Management, Advanced Customer Care, and much more. Click the link for full information.
Sa-Su, Jun 14-15 New World Hotel Wedding Fair With a wedding always right around the corner, it is time to see and experience the latest fashion and trends. More than 40 wedding gown collections from some of the leading Vietnamese designers will be presented by the most beautiful models. The 2008 collections of gowns see the return of natural colors which will create unforgettable memories of a special day.
Mo, Jun 16 Direct Selling Committee Meeting. with special guest Ms. Tamuna Gabilaia, Executive Director of the World Federation of Direct Selling Associations, who will be in Vietnam for the APEC/CEPI conference in Ha Long Bay, June 19-20.
How competitive is your compensation strategy? Directly shape trends in the market … Navigos Group's Salary Survey 2008. Following the successful run of last year's 2007 Salary Survey, Navigos Group is now gearing up for the Vietnam Salary Survey 2008, which opens its doors for participants starting on April 14 to July 12, 2008. We have amended our schedule further this year to coincide with your needs better as you have told us. Put your company in the position to directly shape trends in the market, and especially in your industry.
We, Jun 18 Welcome reception for U.S. Commerce Assistant Secretary Hernandez and Business Mission with U.S. companies that represent a diverse cross-section of U.S. industries with a strong interest in doing business in Vietnam. Click the link for information on the mission and to register for the event.
List of companies participating in the Business Mission Companies include turbine electric power, construction materials, compatible consumer printing supplies, pelletizing and drying systems for the plastics industry, architect/design, satellite communications technology, personal care products, machine tools and manufacturing machinery, building cleaning service franchise, and more. Click the link for list of companies with links to their web sites to learn more about their products and services and to contact the U.S. Commercial Service about arranging an appointment.
Sa, 28 June 2008 Independence Day Celebration and Family Picnic Join us for an old-fashioned celebration with scrumptuous food, fun and games for children and parents, great door prizes, and good music at AmCham's Annual Independence Day Celebration and Family Picnic. Limited to 600 AmCham Members and their Family and Guests. This week is the last chance for members to finalize sponsorship for the event, and sponsors' logos will be printed on Tickets starting May 27. Tickets available on June 7.
VCCI – AmCham Business Mentoring Program The Vietnam Chamber of Commerce and Industry, supported by AmCham, EuroCham, and the 2030 Business Club, is cooperating on a Business Mentoring Program to help young Vietnamese entrepreneurs learn the best experiences from successful entrepreneurs and international managers. Click the link for information and to volunteer to participate.
Sa, Dec 6: AmCham Governors Ball: SAVE THE DATE A formal event held in the festive style of the season, to raise funds for community support programs funded by and through the AmCham-United Way partnership.
News and Issues Updates
Click this link to read the below and more News Highlights: Business, Trade, and Investment in Vietnam and Asia.
Vietnam economic boom hits high-speed wobbles Some observers now fear a banking crisis amid tighter liquidity, depositor-flight and non-performing loans. While Bingham said the IMF was "encouraged" by government plans to fix the economy, he called for "a concrete and convincing policy package that will bolster investor confidence and restore macroeconomic stability."
VND drops against dollar to 18,500, compared with 16,000 official rate. In offshore forex trading, futures contracts have bet that the dong would drop to around 24,000 to the dollar within 12 months.
IMF suggests steps to fix Vietnam's "overheating" economy The government should raise interest rates, cut the budget deficit, improve oversight of the banking sector and push market reforms. Vietnam must also rein in SOE borrowing and spending, limit their operations to their core businesses, and continue to reform and privatise them.
Vietnam faces currency crisis, Morgan Stanley analyst says Twelve-month non-deliverable forwards show traders are betting the currency will drop 39 percent against the dollar in the next year. Vietnam's current-account deficit, foreign- exchange reserves and inflation are at levels "misaligned'' with the dong, and The 12-month non-deliverable forward contract has slipped 22 percent this week to 22,550 per dollar.
Two U.S. Senators Order Anticorruption Probe for World Bank Projects Two U.S. Senators asked the U.S. General Accountability Office to investigate World Bank's governance and anticorruption efforts. "World Bank officials are too willing to accept corruption as just another cost of doing business in certain countries. That has to stop," Senator Bayh said. "This institution is tasked with the important mission of alleviating global poverty, and Congress must insist that American money allocated for this mission is well spent."
Click this link to read more News Highlights: Business, Trade, and Investment in Vietnam and Asia.
Event Presentations, Downloads, and PHOTO ALBUMS
Event Presentations and PHOTO ALBUMS Did you miss an AmCham event? Were you there but wanted to have a copy of the presentation? Didn't get the business card of the person you were talking with? Now you can download the presentations by clicking on the above link. Also, you can see a list of people that attended the event, with links to their company contact information.
Presentation: Grade A office rents in HCMC to reach US$ 100/sqm. Can you afford it? Rising office rents affect us all, whether your company is in a shop house or a Grade A office tower. Savills Vietnam believes Grade A rents will top US$ 100 per sqm in the next 2 years. Have you planned for this in your budgets? Couldn't attend the lunch on Th, Feb 28? Click the link to download the presentation and find out where the market is going and decide how it affects your business.
Online Membership Directory Looking for information on AmCham members? Click here to browse the Online Membership Directory for information about and contact points for our 400 member and associate companies, and about 800 representatives. Also with links to their company web sites for even more information about American and international businesses in Ho Chi Minh City.
Benefits and Services Review AmCham benefits and services and learn how you can benefit from Networking Online, with about 100,000 visitors and 250,000 page-views per month to www.amchamvietnam.com.
Your announcement in AmCham's Weekly Update email Early each week, AmCham's Weekly Update email goes out to nearly 800 representatives of over 400 AmCham member and associate companies, plus thousands of subscribers in Vietnam, Singapore, Japan, and the USA. We welcome event announcements that are of interest to our business readers.
Computing Tips from the AmCham Webmaster
Not receiving AmCham's weekly update emails? Then, please check your spam of junk mail folder. To insure that you receive all future communication from AmCham, please add our email address to your address-book and to your "safe list" or "white list" (if applicable).
Google's CEO on "Cloud Computing" Google is a cloud computing server, and in fact we are spending billions of dollars, this is public information, to build data centers, which are in one sense a return to the mainframe. In another sense, they're one large supercomputer. And in another sense, they are the cloud itself. 27 Apr 2008.
From South Asia to iTunes How a husband-and-wife team turned an Indian music podcast series into a business and is making the most out of its Apple storefront on its Web site, where it sells Indian music from Bollywood hits to Bhangra classics, remixed with rap and pop, via iTunes, Apple's online music store. 06 Apr 2008.
Weekly Update emails are sent from [email protected], If you use a SPAM Filter please add this address email address book or "Whitelist."
Please click this link if you want to update your email address.
Keep up-to-date about U.S.-Vietnam trade and investment with Weekly Updates.
https://www.amchamvietnam.com/wp-content/uploads/2012/12/amchamvietnam-logo-transparent.png
600
600
AmCham Vietnam
https://www.amchamvietnam.com/wp-content/uploads/2019/01/AmCham-Vietnam-Logo-500px.png
AmCham Vietnam
2008-06-08 08:23:57
2013-01-01 06:39:33
Weekly Update Jun 09: Members Night Jun 12, Business Mission, Independence Day Celebration