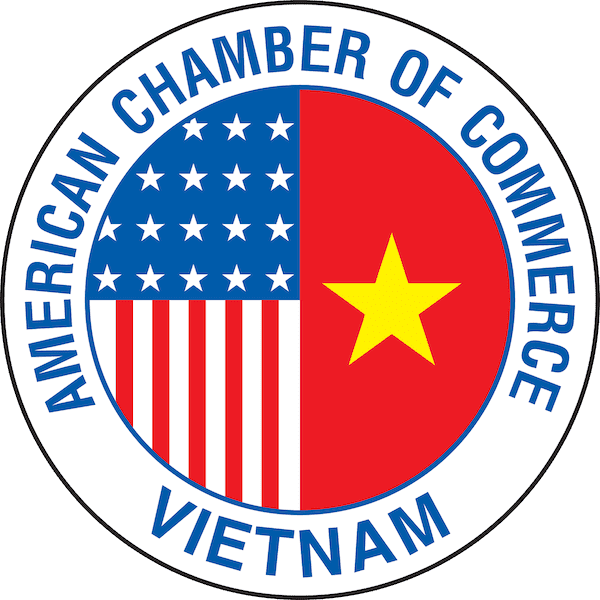 Keep up-to-date about U.S.-Vietnam trade and investment with Weekly Updates.
Upcoming Events, Committee Meetings, and Other Activities
Plan ahead. Click here to see all upcoming Events and Committee Meetings
Vietnam Business Forum: Annual Business Sentiment Survey Are conditions better for your business? Take this short survey and help improve the business environment.
Brief Guide to Intellectual Property in Vietnam, by Rouse & Co, will help companies doing business in Vietnam to understand the IP regime and know how best to protect and exploit IP in Vietnam.
Mon, Nov 5: Lunch: United Airlines CEO Glenn Tilton will discuss United's current strategies and plans for the Asia Pacific Region including route initiatives and enhanced customer service programs.
Tue, Nov 6: Welcome Dinner for U.S. Commerce Secretary Mission The mission will highlight export opportunities and market access for U.S. businesses, and will include representatives of leading U.S. firms, from diversified industries.
Wed, Nov 7: Town Meeting with U.S. Commerce Secretary at the HCM City University of Technology to discuss the global economy, Vietnam's international engagement, and how Vietnam can lead by creating a healthy environment for trade and investment. Admission is free of charge.
Thu Nov 8, Mon Nov 12: Watson Watt 2007 Vietnam Total Rewards Survey Seminars are scheduled on Nov 8 in HCMC and Nov 12 in Hanoi. Finding Reports available since Oct 15. Click the link for more information.
Sat, Dec 1: AmCham Governors Ball A formal event held in the festive style of the season … to raise funds for community support programs funded by and through the AmCham-United Way partnership.
Membership Directory 2008 Please update your contact information by Nov 30. We have sent faxes to all members for updated contact information. If you have new or changed contact information, please contact Ms. Huong at the AmCham office (824 3562). And, as you plan your advertising, be sure to include the AmCham Membership Directory.
Typhoon in Eastern Sea may approach coast of southern part of Vietnam A Category 1 Typhoon (119-153 km/h sustained wind speeds) will cross the northern Philippines into the Eastern Sea on Sun, Nov 4. Click on this link for satellite photos updated hourly, this link for the predicted storm track, and this link for general weather information/links for the Eastern Sea, Southeast Asia, and Western Pacific.
News and Issues Updates
Click this link for News Highlights
AmCham welcomes high-level U.S. Business Mission to Vietnam, Nov 4-8. Led by U.S. Commerce Secretary Gutierrez, the Mission will help companies develop business and government contacts, solidify business strategies, and obtain market assess.
Microsoft bets $ 240 million on facebook stake and web ad boom. The deal is rooted in an online-advertising boom that has turned Facebook into the newest Internet darling. In recent years, advertisers large and small that once focused their spending on television, newspapers and other traditional media have started shifting their spending to a host of Web sites. Google has built its fortunes on that shift and others including Microsoft are rushing in.
Computing Tips: My midlife facebook crisis. Facebook, with 50 million active users, is a leader in "social networking," the creation of giant, interlinked online communities. Users maintain their own Web page, including information as varied as what books they're reading, what parties they plan to attend and what films they like. The difference between social networks and the Web writ large is that these pages are networked.
U.S. Food and Drug Administration (FDA) inspection of Chinese drug manufacturers "dangerously inadequate". While 3,000 companies are registered to import drugs into the United States, nearly 7,000 foreign companies actually supplied the U.S. market in 2007. The FDA has resources to conduct only about 20 inspections a year in China.
Computer Sciences Corp (CSC) and First Consulting Group to merge as CSC acuires FCS, an AmCham member, for $ 365 million.
U.S. Commerce Department Completes First Review of Import Data: finds insufficient evidence of dumping to warrant self-initiating an anti-dumping investigation.
U.S. Imports of Apparel from Vietnam Increase 25% in Jan-Aug 2007 period over same period in 2006. If this trend continues, U.S. imports of apparel from Vietnam may reach $ 4.25 billion this year, more than 40% of the projected U.S. total imports from Vietnam of over $ 10 billion.
Event Presentations, Downloads, and PHOTO ALBUMS
Event Presentations, Downloads, and PHOTO ALBUMS Did you miss an AmCham event? Were you there but wanted to have a copy of the presentation? Didn't get the business card of the person you were talking with? Now you can download the presentations by clicking on the above link. Also, you can see a list of people that attended the event, with links to their company contact information.
Online Membership Directory Looking for information on AmCham members? Click here to browse the Online Membership Directory for information about and contact points for our 400 member and associate companies, and about 800 representatives. Also with links to their company web sites for even more information about American and international businesses in Ho Chi Minh City.
Benefits and Services Review AmCham benefits and services and learn how you can benefit from Networking Online, with about 100,000 visitors and 200,000 page-views per month to www.amchamvietnam.com.
Your announcement in AmCham's Weekly Update email Early each week, AmCham's Weekly Update email goes out to nearly 800 representatives of over 400 AmCham member and associate companies, plus thousands of subscribers in Vietnam, Singapore, Japan, and the USA. We welcome event announcements that are of interest to our business readers.
Tips and hints from the AmCham Webmaster
Not receiving AmCham's weekly update emails? Then, please check your spam of junk mail folder. To insure that you receive all future communication from AmCham, please add our email address to your address and your safe list or "white list" (if applicable).
Click on the SPEED TEST image to test your internet connection speed. By measuring the download and upload rate you are able to accurately judge your current line throughput or internet connection speed.
Try it now to see how if your internet connection measures up. And if you don't have high-speed cable access, get it now. You can't afford not to.
Keep up-to-date about U.S.-Vietnam trade and investment with Weekly Updates.
https://www.amchamvietnam.com/wp-content/uploads/2012/12/amchamvietnam-logo-transparent.png
600
600
AmCham Vietnam
https://www.amchamvietnam.com/wp-content/uploads/2019/01/AmCham-Vietnam-Logo-500px.png
AmCham Vietnam
2007-11-02 10:08:39
2013-01-01 06:40:59
Weekly Update Nov 05: Typhoon, United Airlines CEO, Commerce Secretary Business Mission