Contribute to the development of a globally-competitive workforce in Vietnam.
2022 Strategic Plan
Top Priorities for 2022
Develop and carry out a survey to identify key recommendations to address skills gaps and workforce development.
Organize an event to share and discuss survey findings in early September.
Identify pilot programs to address skill gaps.
Strengthen ties with AmCham Vietnam and USG alumni groups, and other Committees.
Promote importance of lifelong learning.
Key Events for 2022
Hold an AmCham event in HCMC in early September focused on workforce development to share survey results, identify recommendations, and develop action plans.
Hold a similar workshop in Da Nang later in September.
Hold a national-level event in late November in HCMC to showcase initial progress.
Top Advocacy Issues
Facilitate work permits for international academic staff .
Accelerate implementation of digitization of education.
Promote awareness with national/local government of the importance of child -safeguarding and the establishment and enforcement of child protection policies.
Promote an enabling regulatory system for licensing of private educational institutions.
Leadership Team
Co-Chair
Kim Green, Head of School, International School Ho Chi Minh City
Kim Green is currently the Head of School at International School Ho Chi Minh City, Vietnam.
As a leader of three programme IB World schools, she is committed to creating strong connections across the learning continuum through impactful leadership, a strong curriculum that leads to mastery, and mindful practices that place wellbeing first. Kim is passionate about building authentic frameworks for professional learning, leadership development, and removing linear roles and responsibilities in education.  She believes that leadership networks that synergistically deploy agile methodologies, courageously take risks to positively impact wellbeing and learning outcomes ultimately unlock human potential and collective intelligence enabling innovation to be embedded into the fabric of the school community.
Internationally Kim has held the role of Head of School, Director, Head of Secondary /Secondary Principal and MYP Coordinator in four different IB World Schools (Laos, Bangladesh, Qatar and Vietnam).  Kim has twenty-four years of teaching and leadership experience that includes working with New Zealand, Nevada- USA, and International Baccalaureate (IB) curriculum.
Whilst in her roles as Director and Principal she has continued to teach IBDP Theory of Knowledge and MYP Humanities, supported students as a Personal Project Supervisor, Extended Essay Supervisor, and a CAS Advisor.   Kim has been involved in IB pilot projects, presents at IB Regional Conferences, is an IB Workshop Leader, MYP Consultant, School Visit Team Leader for MYP verification and evaluation visits, and MYP Lead Educator. She is also a Team Co- Leader for CIS/WASC accreditation visits.
Kim holds a Masters in Educational Leadership (UK), Bachelor Degrees in both Education and Social Science (NZ), and Diploma's in both Teaching (NZ) and Management (Aust.) and is currently a Doctoral Candidate in Social Science – Organisational Behaviour. She is an Independent Concept-Based Curriculum and Instruction Consultant endorsed by Lynn Erikson and Lois Lanning and a Cognitive Coach.  In 2014 she published 'Re-thinking Leadership Development in Schools' a book that presents an innovative and effective framework for leadership development in schools.  Kim also enjoys promoting wellbeing as a DoTerra Wellness Advocate and Consultant https://www.mydoterra.com/kimgreengraham/#/
Co-Chair
Dan Bass, Solutions Director, Blanchard Vietnam
Dan has had more than 25 years in Human Resources, with extensive experience in Talent Management and Learning & Development.  He has also provided consulting services to multinational companies, including many Fortune 500 clients. Clients enjoy the good wealth of experience and expertise that Dan offers, and his exceptional passion about improving business skills for people with a focus on how to help clients translate the learning into sustainable practices at work.
Previously, Dan has held leadership positions in various organizations, including being the Head of Talent Development for Siemens China and the Learning Solutions Director for Mercer. Dan developed talent development programs including performance management process, succession planning, talent review, high potential development, mentoring programs, and assessment centers. Additionally, he worked with various HR subject matter experts to design and develop HR knowledge and learning solutions for teams and organizations.
Dan is currently the Solution Director of Blanchard Vietnam, and a faculty member at PACE Institute of Management.
Vice Chair
Brian O'Reilly, Senior Project Manager, Crossroads Vietnam Co, Ltd
Brian has been working in Vietnam for over 21 years in higher education, management consulting, and corporate training. He has extensive experience in higher education and launched Vietnam's first 100% foreign MBA program in Vietnam in 2003. His experience in higher education also includes launching and managing a number of business programs, including managing the Vietnamese-German University's MBA program, and lecturing in international MBA and Bachelor programs.
His expertise includes project management, business planning, and leadership and management. Brian's honorary roles include being the Chair of the Education and Training Working Group of the Vietnam Business Forum (VBF), Vice-Chair of the American Chamber of Commerce's (AmCham) Education and Training Committee. the Co-Chair of the Education and Training for Australian Chamber of Commerce in Vietnam (AusCham).
Vice Chair
Catriona Moran, Head of School, South Saigon International School
Dr. Moran is an Irish national with over 35 years of experience in education and leadership, 30 years of which have been in international schools in Japan, Taiwan, and now Vietnam. She currently serves as Head of School at Saigon South International School, HCMC. Catriona holds a doctorate in Educational Leadership from the University of San Diego in the U.S.
Trained as an elementary teacher, Catriona has served as an elementary principal in two international schools and deputy head of a school in Asia for two decades. In 2013, she was named the "National Distinguished Principal of the Year" by the National Association of Elementary Principals and the U.S. State Department for her work at Taipei American School. She serves on the EARCOS Board of Directors, on the Association for the Advancement of International Education (AAIE) Board of Trustees, and as Chair of the Saigon International Network of Schools in HCMC.
Her areas of interest include school improvement, leadership, governance, staff professional development, assessment, program and policy development, and child protection and safeguarding.
Secretary
Robert T. Connolly, General Director, Crossroads Management Consulting Co, Ltd
Robert (Bob) Connolly's credentials include an EdD in Leadership, an MBA in International Business and Finance, and a Master's Degree in International Affairs.
Originally from Omaha, Nebraska (USA), Dr. Connolly moved to Vietnam in 2004 where he teaches Business and Finance classes at several universities. As General Director of Crossroads Management Consulting, he assists clients with Leadership Development and Barriers to Innovation.
He has worked in several industries including Mortgage Banking, Electronics Manufacturing, and Education. At various times, he has been responsible for project management, financial modeling,
business unit reviews and budgeting, consulting, international business and market development.
While completing his Doctorate of Education in Leadership, the basis of his research was the study of the barriers to innovation. He continues to pursue research and activities to better understand how
Vietnamese business leaders overcome barriers to changes required to compete internationally.

Board Liaison
Nam Tran, Director of Development and Strategic Initiatives, Fulbright University Vietnam
Nam Tran is the Director of Development and Strategic Initiatives, in charge of building Fulbright's development capacity in Vietnam and leading and executing the several most important and prioritized tasks of Fulbright University Vietnam. He works jointly with the leadership team on major gifts and special strategic projects.
His passion for social impact led him to work on varied projects in education, youth and female employment, innovation, sustainability, tourism, economic development for disadvantaged regions, and more. Coming to Fulbright, he wants Vietnamese young people to have a choice of world-class education in Vietnam. Nam also served as the Co-Chair for Education and training Committee at AmCham to help bridge the gap between higher education and industry.
Before joining Fulbright, Nam worked at Boston Consulting Group (BCG).  Nam was with BCG for 6 years and was one of the first members of the Ho Chi Minh City office. Nam worked in both strategy and operations across Southeast Asia and Middle East in multiple industries, including Consumer Goods, Industrial Goods, Telecom, Energy and the Public sector.
Nam graduated from the University of Texas at Austin with dual degrees in Mathematics and Civil & Environmental Engineering and hold a MSc. in Civil Engineering.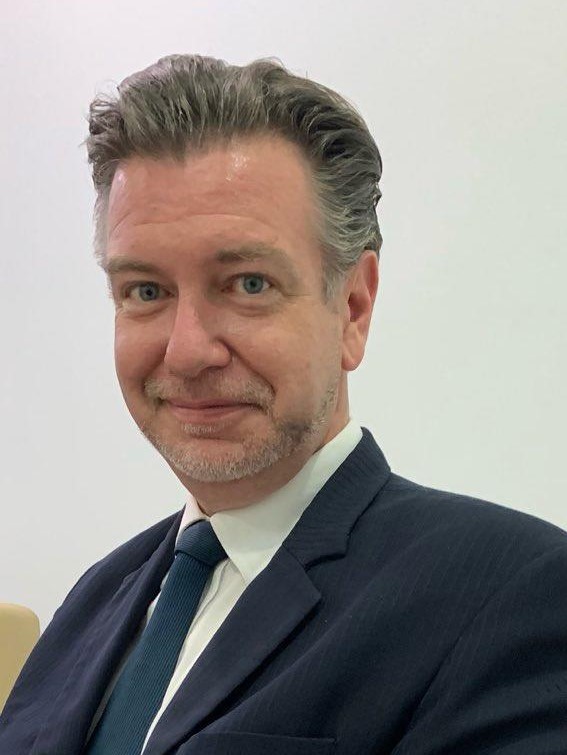 Board Liaison
Chris Vanloon, General Director, Riverside Tower Commercial Center
Chris Vanloon first came to Vietnam in 1998 when the Furama Resort Danang opened, the first five-star resort in the country. After leaving Furama, he moved on to Property Management in Hanoi and Ho Chi Minh City, working as a consultant and later becoming the Head of Property Management in Hanoi for Chesterton Petty (later merged and rebranded as Savills). He built up a portfolio of projects for Chesterton, from high-end luxury apartment buildings to mixed-use commercial properties. He also worked heavily in development advisory, reviewing land usage plans, and collaborating with project owners to assist in design layout and functionality of several buildings in the Hanoi skyline today.
Chris stepped away from property development and became the Director of Northern Operations for Destination Asia. In this role, he oversaw the daily operations of high-end luxury travel and incentive business, and spent a great deal of time travelling to Europe, the United States, and Canada, to promote Vietnam as a destination for foreign travellers.
Returning to property, Chris helped start New Peaks JSC, where he was the Managing Director overseeing the establishment of the company and its direction in areas of property development and advisory. At the same time, Chris helped found the property services company Viethomecare in Da Nang. Then, Chris became the General Director for Indochina Riverside Towers and Riverside Tower Commercial Center in Da Nang.
Chris has a background in Management and Marketing from Boston College. He served in the United States Navy. Chris' diverse background in Vietnam and passion to develop Da Nang allows him to contribute unique strengths to AmCham Vietnam and its members.
Significant Events in 2021
Reference Materials for Public
Reference Materials for Members