Mission
Capitalize on current interest in FII on Vietnam and promote 'investability' of Vietnam through development of transparent, efficient, capital markets and financial services.
2021 Strategic Plan
Top Priorities for 2021
Continue practice of outside expert speakers
Increase familiarity with and use MSCI criteria to develop a roadmap for engagement/advocacy to enable Vietnam to graduate from a frontier to emerging market status
Key Events for 2021
ESG and Social Impact Investing – Jan 4
How a Gender Lens Drives Value for Investors in Vietnam – April 7
Top Advocacy Issues
TBD
Leadership Team
Co-Chair
Louis Nguyen, Chairman and CEO, Saigon Asset Management (SAM)
Louis Nguyen is the Chairman and CEO of Saigon Asset Management (SAM), a fund management and investment banking firm based in Saigon, Vietnam. SAM focuses on the capital markets, real estate, and impact investment. Since 2007, SAM and its funds have invested in over US$500 million in over 70 companies and projects in Vietnam, as well as outperformed their peer funds and related indices.
Prior to founding SAM, Louis was Managing Director at VinaCapital, a fund management firm with over US$3 billion of asset under management. He was also Founding General Partner at IDG Ventures Vietnam, a technology fund management firm with over US$100 million of asset under management.
Prior to arriving in Vietnam in 2003, Louis was Vice President at Intelligent Capital, a technology M&A firm based in San Francisco, California, which completed in over US$1 billion in transactions.
Prior to that, Louis was Director at Osprey Ventures, a US$100 million technology venture capital fund management company based in Menlo Park, California.
He held management roles at Apple, NEC, and KPMG in the San Francisco Bay Area, California.
Louis is a member of the board of directors of PetroVietnam Fertilizer and Chemicals Corporation (DPM), Amber Fund Management, Sunwah Corporation, Heritage Beverage Corporation, USV Capital…
He co-chairs the Capital Markets Committee at the American Chamber of Commerce (AMCHAM) in Saigon, Vietnam.
Louis received a B.S. in Accounting & Finance from San Jose State University, San Jose, California.
For more info please visit: www.saigonam.com
Co-chair
Eric Levinson, Head of Business Development, VinaCapital
Eric joined VinaCapital in 2020 to lead business development for both its domestic retail and international products. In this role, he has been focusing on expanding relationships with banks and other investment partners, enhancing training for sales teams, and overseeing marketing. He is also taking a lead in working with the product development team to develop and launch new solutions that meet the evolving needs of the fast-growing domestic market.  Eric is also partnering with the leaders of VinaCapital's Alternative Investment Platform, including private equity, venture capital, real estate, and renewable energy, to market their solutions to institutional investors globally.
Eric brings to VinaCapital over 25 years of experience in asset management and wealth management. He has held senior roles in management, sales, and strategy as a Managing Director at AllianceBernstein, Hartford Funds and New York Life.
Eric earned a BA from Occidental College in Diplomacy & World Affairs, with a minor in Asian Studies.
Vice Chair for Advocacy and Securities
Hung Hoang, Country Head of Securities Services, Citi, Vietnam
Hung Hoang is responsible for overall management and strategic direction of the Securities Services business in Vietnam, including Direct Custody, Clearing and Investor Services and fostering partnership across the broader Markets & Securities Services and Capital Market businesses. Hung engages as a member of the management team at Citi Vietnam in the franchise management and governance forums. Hung is a member representing Cit at the Capital Market Working Group, Vietnam Business Forum.
Leveraging over 20 years of experience in Vietnam's capital market, deep and extensive relationships across key regulatory and capital market agencies, Hung is well positioned to drive Citi securities business, client and product strategies. Prior to Citi, Hung spent over 11 years at Horizon Capital and Horizon Securities, where as CEO he was responsible for the partnership between Citi and Horizon Securities. Hung started his career, in 1998, at the State Securities Commission of Vietnam in the Surveillance and Enforcement Department, before moving to Mekong Securities as Head of Equity Analysis and Consultancy. He then joined Grant Thornton in Corporate Finance and Advisory.
Hung holds an MBA in Finance & Banking from the KDI School of Public Policy and Management, Seoul, Korea and a Bachelor of Economics from Foreign Trade University, Hanoi, Vietnam.
Vice Chair for Insurance
Chun Nam Ng, Chief Financial Officer, Manulife Vietnam
Vice Chair for Banking
Gregory Testerman, CEO, Testerman Advisory, LLC
Greg's thirty-year career in international Corporate & Investment Banking spans four continents and all of the world's major banking centers and capital markets. After training at JP Morgan Chase's New York headquarters and in Europe, he worked seventeen years with Banco Santander throughout Europe, Asia, and Latin America, including as Chief Executive and Country Manager of Santander's bank in Japan – with responsibility for Southeast Asian markets – and Chief Executive for Santander's Miami branch, responsible for correspondent banking, trade finance, and structured trade throughout Latin America. He spent nine years as Treasurer and Senior Managing Director of Capital Markets for the Foreign Trade Bank of Latin America ("Bladex"), a supranational development bank. Throughout his banking career, Greg has specialized in building new businesses, and turning around challenged ones.
Vice Chair for Sustainable Finance
Binh Le, CEO, ASART
Binh is Founder and CEO of ASART, a leading independent and boutique advisory M&A firm in Vietnam, with a focus on strategic synergies and investment returns.
For over the last 12 years she has been working intensively with M&A transactions and strategic projects for both sell-side and buy-side. Previously, she worked at KPMG. Binh has built an unique set of experience and track record with a combined knowledge in M&A, finance, strategy, valuation, structure, commercial performance, accounting, tax, legal, reporting, problem solving, executive negotiation, politics, government relations, and advocacy. Her current work is the optimal combination of these areas of expertise, with emphasis on value creation and sustainable growth.
She has assisted and advised leading Vietnamese companies and multinational corporations in various industries, with 110+ projects and 230+ companies for a total value of USD3.6+ billion, directly with board of directors and shareholders.
She has an MBA from Indiana University and Purdue University (IPFW, USA) and a Bachelor Degree in Commerce with Distinction from RMIT (Vietnam).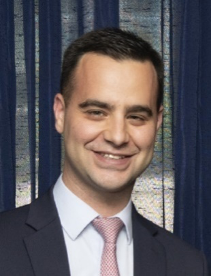 Honorary Advisor
Alex Tatsis, Economic Section Chief, U.S. Consulate
Alexander Tatsis is the Economic Section Chief at the U.S. Consulate General in Ho Chi Minh City. Previously, he served as Senior Vietnam Desk Officer in the Bureau of East Asian and Pacific Affairs at the Department of State in Washington. He has also served in the U.S. Embassies in Kuala Lumpur, Islamabad, Paris, and Khartoum, Sudan. Prior to joining the Foreign Service, he worked in finances in New York.
Alexander is a graduate of Georgetown University. He speaks French and Greek.
Legal Advisor
Nguyen Hoang Kim Oanh, Partner, Baker & McKenzie
Secretary
Jessica Linh Nguyen, SAM
Board Liaison
Chad Ovel, Partner, Mekong Capital
Chad Ovel has lived and worked in Vietnam continuously since 1996. He is a Partner at Mekong Capital, a Vietnam-focused Private Equity firm, specializing in consumer driven businesses. Established in 2001, Mekong Capital has the most extensive private equity track record in Vietnam having completed 35 private equity investments, of which 26 have been fully exited. Chad has led Mekong Capital's successful investments in various sectors including pharmaceuticals, real estate, logistics, casual dining, and retail.
Before joining Mekong Capital, Chad had a successful track record as a CEO leading the rapid growth of ScanCom Vietnam, a foreign-owned furniture export manufacturing business, and AA Corporation, a local company operating in the sectors of construction, retail and manufacturing.
Chad is originally from Cedar Rapids, Iowa. He holds a BA from Carleton College and an MBA from University of Chicago.
Reference Materials for Members
Join the CMFS Committee
We seek active members to support our mission who can add values. The best way to forge long-term business relationships is by working closely with people to accomplish goals that help the community. At committee meetings and events, you will have the opportunity to network, talk face-to-face with industry experts, understand the ecosystem, and participate to improve our business environment by joint efforts on our activities.
Please contact us at: [email protected]