REGISTRATION GUIDELINE
Physical participation only. Please register in advance to reserve your seat and fill in your ID in the registration form. The ID will be used to register for the building entrance process.
To commemorate International Women's Day, AmCham Vietnam HCMC & Da Nang's Women in Leadership Committee (WIL) will be hosting a special panel discussion this March. Featuring AmCham Board Members Madam Ha Thu Thanh, Chairperson, Deloitte Vietnam and Hang Nguyen, Partner, Baker McKenzie Vietnam; in addition to WIL co-Chairs Dr. Astrid Matarrita, Psychologist, and Minh Nguyen, Country Lead, Vietnam, Allianz Partner, the panel will cover topics relevant to members and young professionals alike:
Achieving success as a leader at work
Opportunities and challenges for women in leadership
Vision and mission for the 2023 Women in leadership and the impact on promoting women within the chamber
Participants will also learn about benefits and engagement opportunities as employees of our members.
Join us on March 29th at Deloitte Coffee Lounge from 4:00pm to 5:30pm. The discussion panel will be followed by a networking reception for all participants from 5:30pm to 7:00pm.
AGENDA
| | |
| --- | --- |
| 4:00 PM | Check-in for guests |
| 4:30 PM | Welcome |
| 4:35 PM | Panel discussion |
| 5:30 PM | Networking |
| 7:00 PM | Event ends |
COST
AmCham Members: VND 350,000 |
Non-members: VND 450,000
Reservations/cancellations must be received by 24 hours before the event, and must be made on-line or by email. We are unable to accept reservations/cancellations by telephone.
PANELISTS
Madame Ha Thu Thanh
Chairperson, Deloitte Vietnam
Madame Ha Thu Thanh is the Chairperson and one of the founders of Deloitte Vietnam –the largest Consulting Firm in the world and in Vietnam. With 38 years of experience, including 8 years working for MOF, and more than 30 years working for Deloitte Vietnam with 24 years in role of the leader, she is highly appreciated for her great contribution and pioneering in the development of the profession of accounting and auditing.
Through dedicated activities in organizations and associations, Madame Thanh takes the leading role in actions for developing business community as well as contributing to the socio-economic development of the country, promoting economic, trade, science, and technology cooperation with countries in the region. Holding the key roles in in several organizations, she has a large communicating network with various economic sectors and business associations nationwide as well as foreign ones.
Madame Thanh has the strong connection and support from senior government officials of Government Agencies including Ministry of Finance (MOF), Ministry of Planning and Investment (MPI), Government Offices…
Madame Thanh is highly regarded as a trusted keynote speaker and inspiration for many business forums and conferences, as well as a consultant/senior coach for many large groups in Vietnam.   She was voted as one of the "50 most influential women in Vietnam" by Forbes and awarded the "Asia Pacific Entrepreneur Award" by Enterprise Asia in 2017 and 2019.
She is a longtime member, great supporter of AmCham Hanoi, and looks forward to continuing her service to support strongly for AmCham members in Vietnam.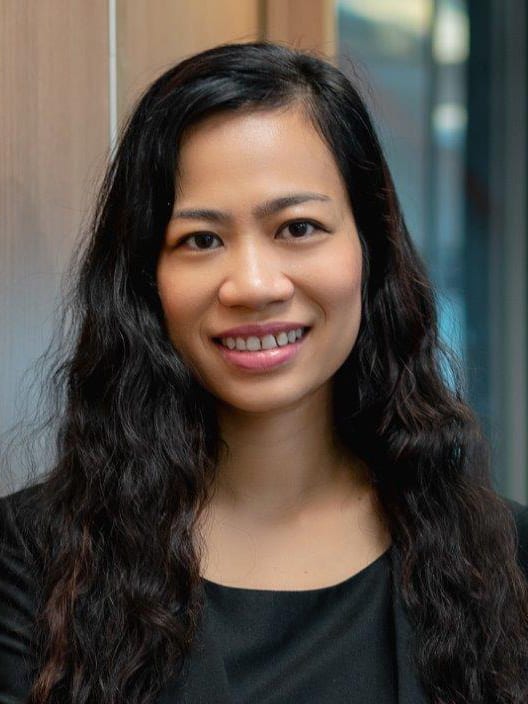 Hang Nguyen
Partner, Baker McKenzie Vietnam
Nguyen Thuy Hang is a Partner in Baker McKenzie's Ho Chi Minh city office. Her practice focuses on Employment and Labor, Compliance and Investigation, Corporate Restructuring and Reorganization, and general M&A. She is one of the few Vietnamese lawyers dually admitted to practice law in New York State and Vietnam. Ms. Nguyen has been assisting in various compliance investigation and advice. During her 13 years with Baker McKenzie, she has worked in the Vietnam, Barcelona and London offices. Ms. Nguyen is a Governor of the Board of Governors of American Chamber of Commerce, Ho Chi Minh City Chapter, and chairs its HR Committee.
Dr. Astrid Matarrita-Chinchilla
Clinical Psychologist at Saigon Psychology
Dr. Astrid is a Clinical Psychologist and Couples Counseling with +10 years of experience exclusively in Private Practice. Astrid is the vice-chair of AmCham's Women in Leadership Committee.
Her practice as a Psychotherapist has always been influenced by the concept of seeking growth through rethinking and challenging society's paradigms and doctrines.
Astrid is an advocate for both women empowerment and personal agency. Working towards the substantial efforts we are each responsible for individually, in order to reach our full potential in connection to our need for the support, experience and influence of a like-minded community. Learn more at www.saigonpsychology.com
Minh Nguyen
Country Lead, Vietnam, Allianz Partner
Minh Nguyen is an Innovative Executive in Healthcare and Insurance services. Her current job is as Country Lead, Vietnam of Allianz Partner, partnering with Bao Viet General Insurance in Vietnam. She has nearly 20 years' experience in leadership roles in insurance in emerging markets, fronting partnership, general management responsibilities ensuring operational excellence, merging and acquisitions, distribution management, talent development and driving profitable growth. Her previous employment was at Aetna International, American International Group (AIG), Prudential Insurance, APAVE Consulting (enterprises quality certification consulting) and Taylor Nelson Sofres (media research). She graduated with honors at Foreign Trade University, hold a Master of Science, Bournemouth University, United Kingdom and EE, Global Healthcare Leadership at Harvard Medical School.
She has been volunteering at recent committees: APAC Aetna WISE (Women Inspiring Success and Excellence (WISE) with event series to embrace D&I, drive changes and create platforms to support women's opportunities around the region. Member of Board of Governors of the American Chamber of Commerce, HCM chapter in Vietnam 2019-2022, including as its Vice Chair and EXCOM committee in 2019. Co-founder of AmCham Women in Leadership Committee and continue to serve as its Co-Chair. Vice Chair for Private Insurance committee of AmCham Healthcare committee. Strategic Planning Advisor for Private Insurance/Payer groups & participate in several projects relating to Quality Healthcare improvement for Vietnam and advising in the promising Health/Med Tech, InsurTech start-ups.
Graham Harlow
Acting Consul General, U.S. Consulate in HCMC
Graham joined the Consulate General in September 2020 and has served in Mexico, Laos, and Lesotho, where he won several awards for outstanding leadership. Before coming to Vietnam, Graham worked at the State Department's Bureau of East Asian and Pacific Affairs as a Post Management Officer. Prior to joining the State Department, he and his wife met as volunteers in Peace Corps Uzbekistan and worked in disaster relief in in Darfur, Sudan and Banda Aceh, Indonesia. Graham started his career working for Steven Spielberg. During the years of movie marketing Graham received his MBA from USC. He is continually entertained by his 13-year-old twins.